Andre Bradley
Bradley's work explores the subject of Adverse Childhood Experiences (ACEs) and the black community, using lectures, photography, photo-bookworks,and installation as forms of ideological resistance.
He is a graduate of Ithaca College, the Rhode Island School of Design, and Hampshire College.
Bradley also completed coursework at the Maryland Institute College of Art.
During his studies at the Maryland Institute College of Art he was named a George Ciscle Scholar in Curatorial Practice, and during his studies at the Rhode Island School of Design, Bradley was named a President's Scholar and a recipient of the T.C. Colley Award for Photographic Excellence.
His first photo-bookwork Dark Archives I-41, was shortlisted for the Photo-Text Book Award at Les Recontres De La Photographie and the Paris Photo-Aperture Foundation First PhotoBook Award. He has been a fellow at the Arc Baltimore, Image Text Ithaca, and the Tilt Institute for the Contemporary Photo. Bradley's work is in the collections of art museums and libraries including the RISD Museum of Art, the Studio Museum in Harlem, and Scripps College's Ella Strong Denison Library Rare Book Room.
CV
Email
Instagram
Private Garden/Vacant Corner
2019 - Ongoing

Private Garden/Vacant Corner
is a diptych that explores Adverse Childhood Experiences (ACEs) and the black community. Hinging a photo book and video as the dyad products of an almost decade-long artistic practice in photography, writing, publishing, curatorial practice, and image text. In a photobook fabricated materially to look and feel like a planter box in a neighborhood designated a High Poverty Area in a large American city full of black people, Bradley sets a trap for attention. Through his own poetics of social engagement Bradley shares specific events, and at the same time creates metaphors and abstract, notions about traumatic experiences. By using multiple "personas" -- he, I, etc. to tell his story. In a joint video, these literary personas share one voice, foregrounding disassociation as a narrative device. Bradley allows viewers to experience disassociation through him, against a background of photographs that confront their own value; garbage strewn amongst tree roots, a horizon line centered mid-frame, and lone and disconnected figures in the landscape. One voice narrates a video collage of archival photographs from the Library of Congress, portraits of black boys, landscape photographs, and a recent video of Philadelphia, cut with talking head footage of the artist reading from his poem Private Garden/Vacant Corner, which gets its name from a landscape design solution that was proposed for vacant property, in certain areas of Philadelphia in the early 2000s. A solution from which the project also gets its name.
Group Exhibition:
The Performative Self-Portrait
RISD Museum of Art

2023
Where's Walter?
Digital media
2020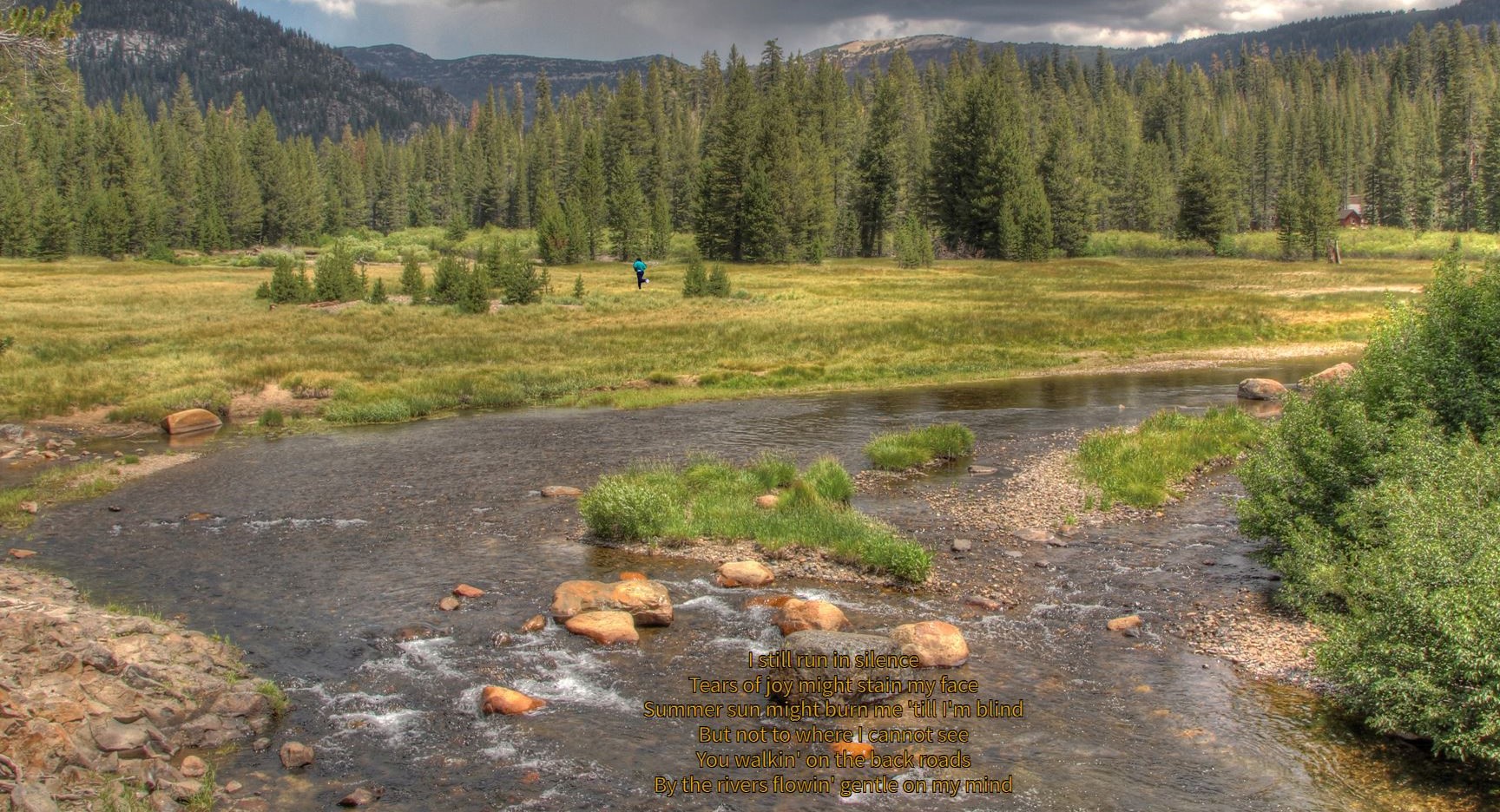 Where's Walter? (Gentle on My Mind),
2020 asks the viewer to play a game. In appearing images, a digital cut-out of Walter Scott (1965 -2015) "runs." Outside the local news frame in which we typically reference his and other's experiences, into a distorted, image-text treatment of the classic children's book Where's Waldo? Re-presenting the public haunt of unarmed black women and men killed by police. Culled from the artist's series
American Slideshows
, 2015-Ongoing,
Where's Walter?
is set to a soundtrack of songs by NWA ("100 Miles and Running"), Frank Sinatra and Aretha Franklin ("Gentle on My Mind"). The artist serves a cut-out figure that runs into and out of America's archive of National Parks landscape imagery as a flattened, and appropriated image of mourning. It's life or death across the American landscape, through burning wildfires, o'er snow and evergreen, through hell and high water.
---
Please go to
www.theconsolelog.org
, open your developer console (Command + Option + J on MAC or Ctrl + Shift + J on PC), type andrebradley() in the console, then press return. You may find other artists' work by viewing the source code (Command + Option + U on MAC or Ctrl + U on PC).
The site works best in the Chrome web browser.
Highway Memory
Inkjet prints, wooden crosses, battery-operated candles, crocodile pin, artificial roses, the Black Panther-themed letter "A", American flags, framed portrait of the artist.
2019